Sanitizing your sofa is very important in these days. You have to protect your wooden sofa from various germs and make them clean from inside.
Also, if you have dust particles stick inside the sofa or your sofas have strained, or maybe bad smell or spreading germs inside it, then it is quite important to clean or completely, sanitize your sofa.
If you are running a thrift shop in which you keep second-hand sofa then it is really important to keep your sofa very clean before you put that sofa inside your shop because due to use since a long time the sofa becomes the home of lots of bacteria and bugs and also if you have kids and pets at home then you need clean the sofa timely.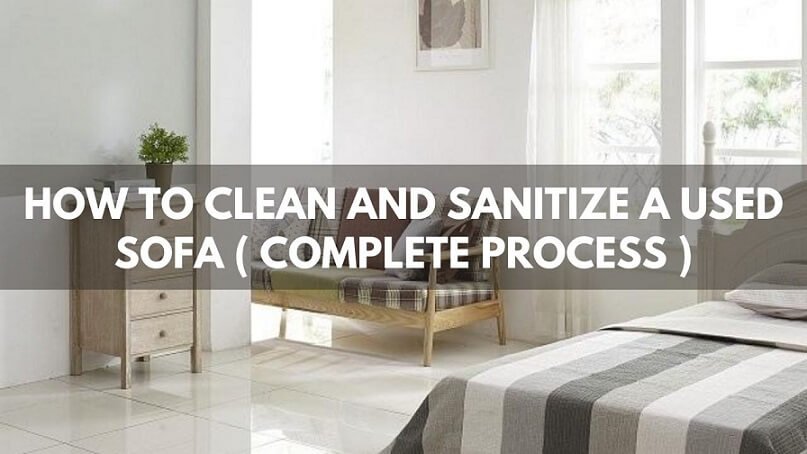 How To Clean And Sanitize A Used Sofa
Below, I am going to share some tactics and some methods to sanitize a used sofa or a couch.
After all, they create a lot of mess and dirt on your lovely sofa, so if you are looking for tips on how you can clean and sanitize your sofa then you are in the right place.  have a read on these easy peasy tips to clean your sofa.
Meanwhile, if you are a pet owner and looking for sofas or couch covers, then you can check out Best Couch Covers For Dogs reviews here, Or If you have a cat with big claws, then check out our guide on Best Couch Material For Cats With Claws.
Prerequisites:
Vacuum cleaner
Brush
Baking soda
Vinegar
Lukewarm water
Bug spray
Disinfectant wipes
Tips To Clean And Sanitize A Sofa:
Use a vacuum cleaner: first of all, use a vacuum cleaner to clean the dirty crumbs, particles, and furs from the couch by vacuuming the couch.
Natural sunlight to kill microbes: sunlight helps a lot kill the microbes which we can not see with our naked eyes so put the couch in sunlight for few hours.
Disinfectant wipes: if your couch is heavy and it is difficult to put in sunlight then buy disinfectant wipes and clean the couch thoroughly by rubbing on the upholstery carefully and make sure that the fabric of the sofa is not so fragile that wipes don't damage the fabric or the wood.
 Use a bug spray or enzymes cleaner: to kill the bacteria and microbes use a bug spray or the enzyme cleaner which are easily available in the market make sure that the bug spray is not harmful to pets if you have any.
Use the washing machine: if the cover of the couch is removable then wash it with the use of detergent powder with lukewarm water and easily clean them.
Baking soda to get rid of odors: sprinkle a generous amount of baking soda all over the couch and spread it with a bristle brush make sure that it will not affect the upholstery so first test it in a smaller area of the couch. you can also spray white vinegar with water to remove odor.
Vinegar and soap solution: to clean the dirty stains use the solution of vinegar and soap and apply it to the stain it will get cleaned easily, you can also use alcohol to remove the ink stains you just need to apply it gently using a cotton ball with alcohol and, for rust stains use lemon and salt solution to clean.
WARNING:
1. Before using disinfectant wipes, vinegar solution, alcohol solution, and, lemon solution make sure that the fabric of the sofa is not too fragile or delicate that it will affect it otherwise these things can damage the couch.
2.Before spraying the bug spray make sure it is pet friendly and will not harm your pets if you have any.
Conclusion
So these are the most effective ways to clean and sanitize your couch apply them to make your coach look like a fresh piece of sofa always and timely clean your sofa to get rid of the mess and dirt.
Also, for more sofas guides and reviews, stay connected with sofabuyingguides.com